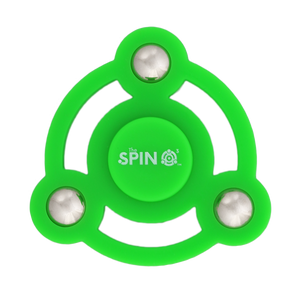 StinkBOSS
The Spin O3™ Glow-In-The-Dark, High-Speed Fidget Spinner
Sale price Price $6.99 Regular price
One of the coolest spinners out there - this glow in the dark spinner is super-fast! The three ball bearing spinner was built for high speeds. This spinner was designed by a 13 year-old STEM student who was inspired by an ozone molecule. StinkBOSS® is a proud support of STEM programs. 
Instructions Unbox and Enjoy!
How to Use Hold the spinner between middle finger and thumb, twirl the body with your pointer finger or opposite hand.  Also spins on a table top
Key Features
Glow-In-The-Dark

New Design:  Designed by a 13-year-old for better balance, control and fidget fun.
360-degree Orbs: Three weighted ball bearings, "Orbs", add weight for spinning and turn freely to flip, roll and fidget  
Trick Control Cap: Center bearing cap has molded center for added control and sits higher than a traditional spinner to aid in tricks and stunts
Ultra-Fast Bearing: The Spin O3 TM 

fidget spinner uses a center stainless steel bearing and innovated injection molding technology. Spin time 1-3 minutes.

Patent Pending 
Product Details
Product Dimensions: 3 ½," x 3½," x  11/16"
Shipping Weight: 1 Spinner in Package - 2.22 oz
Shipping: Free
Origin: China
ASIN: B074F28FK3
UPC: Spinner - 0 54202 10126 3
Item Model Number: FS 10126
For ages 12+
Choking Hazard - This product contains small parts and balls. Not for Children Under 3 years old